In a digital age, it's tempting to send a "thank-you" via email – but taking the time to write a tangible, ink-to-paper, card-in-envelope, addressed and stamped, thank-you card, means a lot to the recipient. Go the extra mile and send thank-you notes. It counts.

I got a card in the mail on Saturday from a bride whose wedding I did a year ago, and it felt really nice to get such a special thank-you. I am touched that she remembered me on her one year anniversary and took the time to send me a hand-written, thoughtful note.
"I had no idea when we hired a wedding planner that you would grow to be such an important , special person in my life.  I appreciate how you were there for me every step of the way, listening and talking through the minutia of pink flowers and chivari chairs.  I know how small those decisions were but you gave each one the gravitas I needed at the time."
Reading that was so nice.  Now I'm going to go order some really special thank-you cards! =)
What I'm liking…
http://www.bhg.com/blogs/better-homes-and-gardens-style-blog/tag/party-diy/
This origami card by I Made Yoo Smile on Etsy:  https://www.etsy.com/listing/186962460/thank-you-origami-gift-flower-card?ref=shop_home_active_5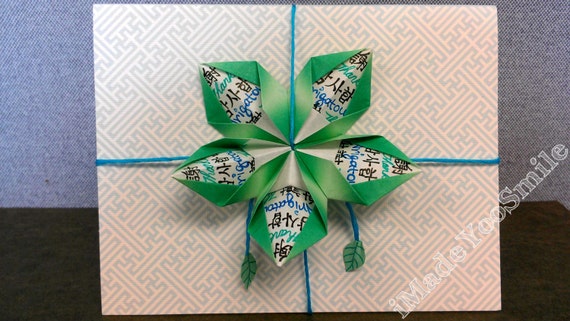 Custom monogram on textured paper by Two Paper Dolls: http://twopaperdolls.com/blog/08/custom-monogrammed-stationery/
Some glitz is always pretty!
http://www.bridalsoup.com/bijou-woo-stationery-with-the-cool-factor/